Apply today, for next year, to be ready when we start the school year. We will need substitutes for K-12, Little Indians Preschool, and bus driving. Applications are available on our Puxico.K12.mo.us website. Select MENU, DOCUMENTS, and then DISTRICT FORMS. The application for these positions is labeled "support services".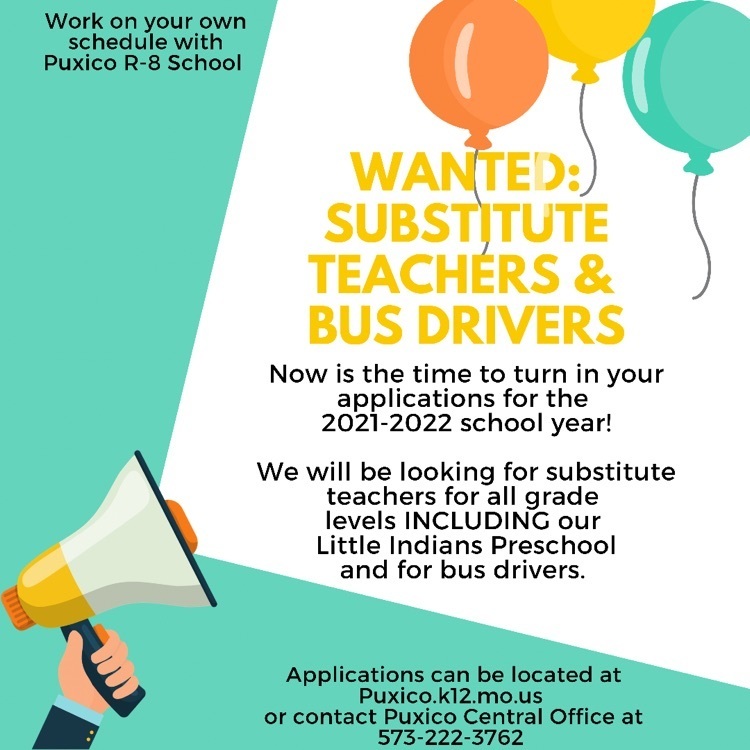 We are accepting applications for our growing P.A.T. Program. Please contact Nate Wills with any additional questions at 573-222-3542. This position can be a part time role, providing services in the afternoon/evening for families that enroll. Program approved training is required. Retired teachers, students in the education field, current educators, and individuals that meet the qualifications for a substitute certificate are great candidates for these roles.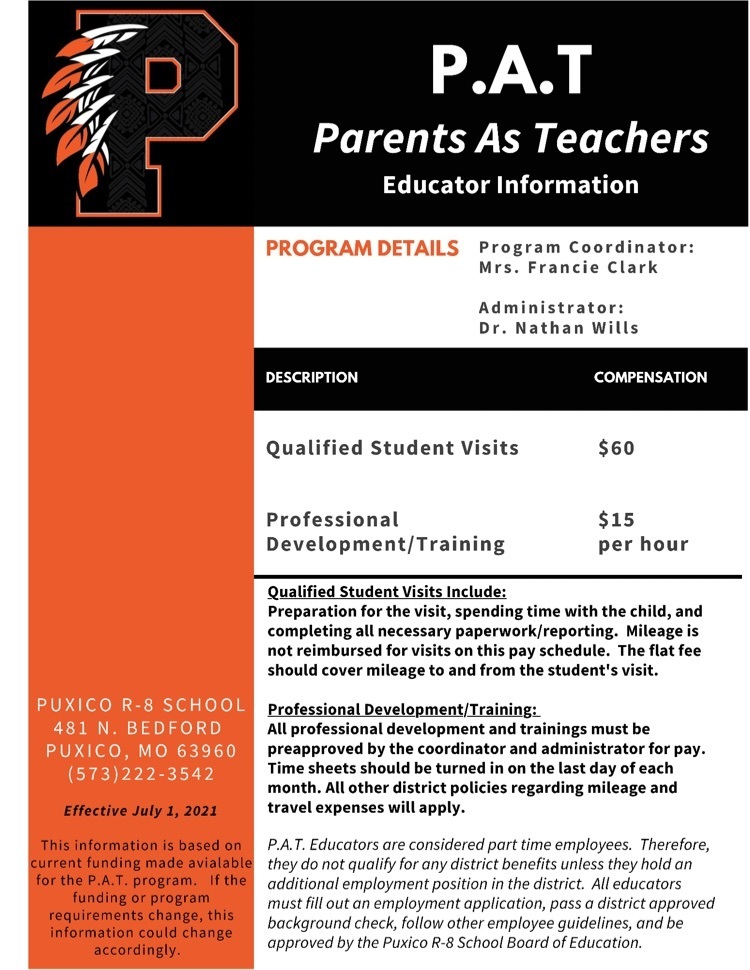 Career opportunities for the upcoming 21-22 school year.

Free Grab & Go Lunch Program for Summer School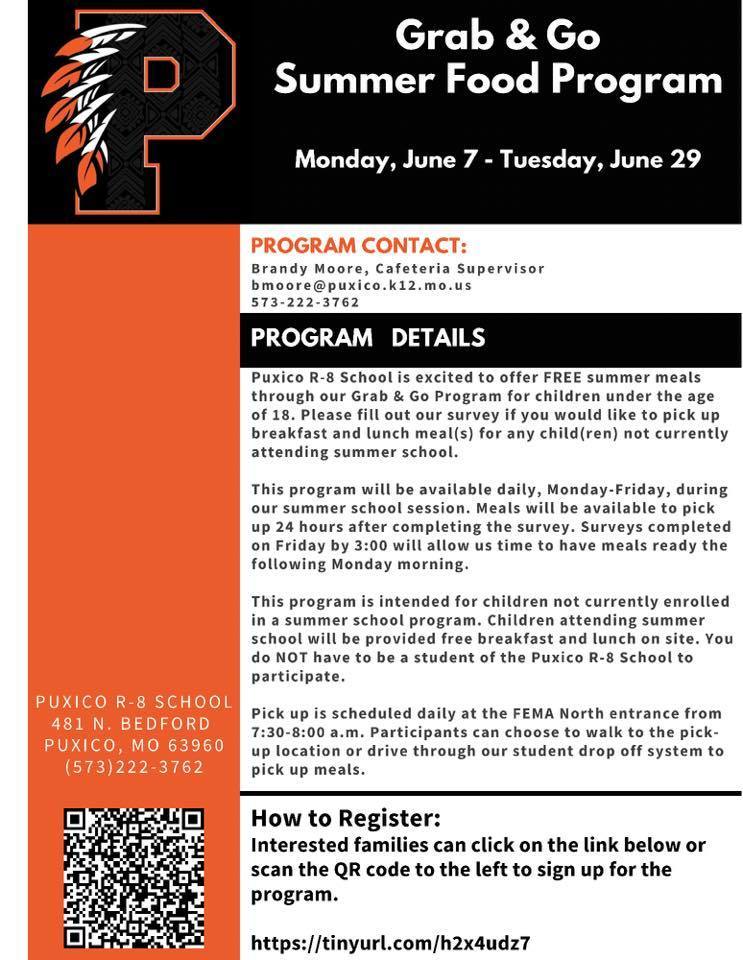 Congratulations to Cole Barnfield on being selected for the 2021 spring baseball All District Team! #gopuxico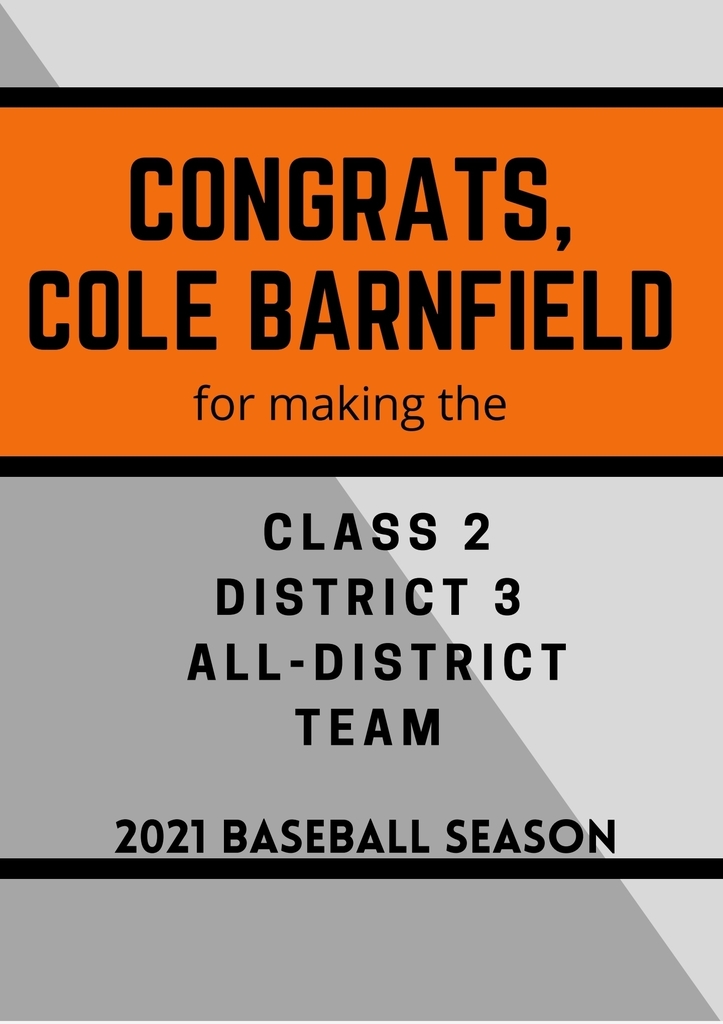 We are so excited to see all of our summer school students tomorrow!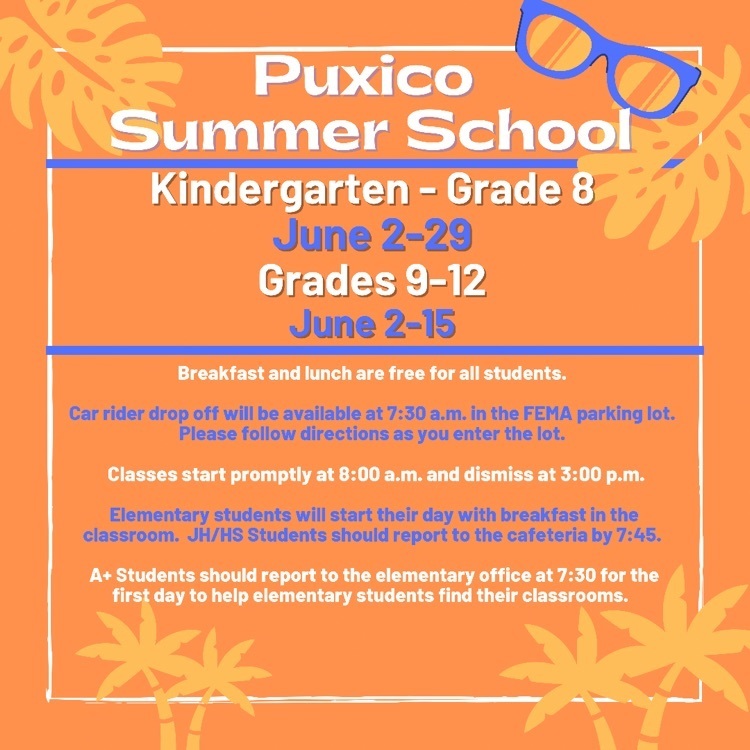 Public Notice for upcoming auction.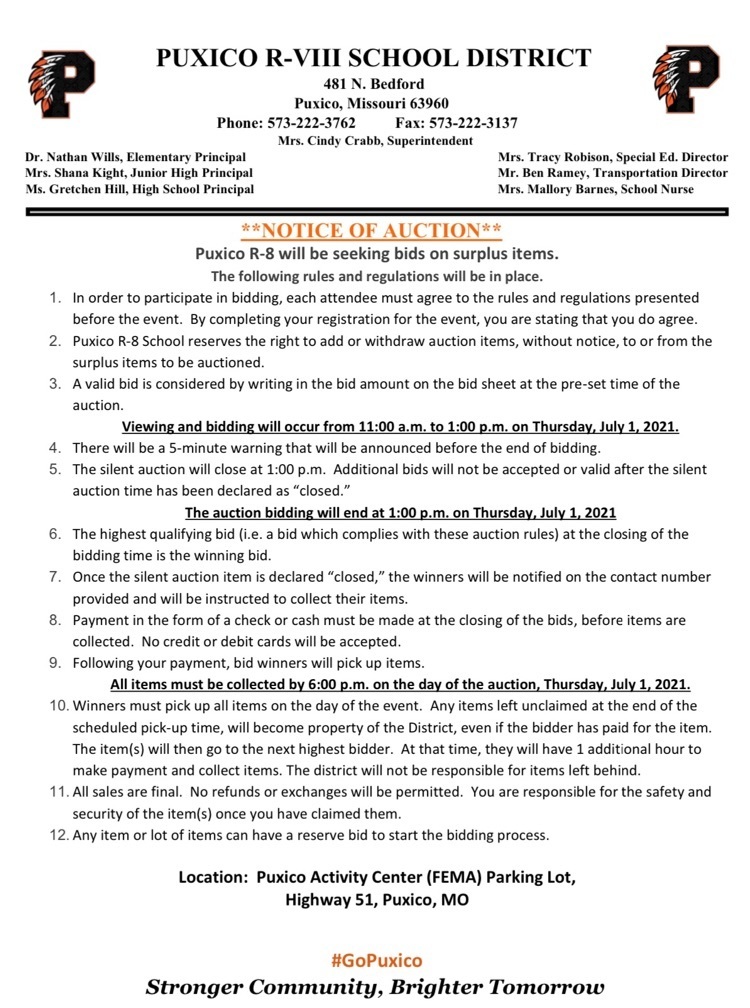 Congrats to Alivia Taylor for being selected for the 2nd Team, Class 1 Region 2 All Regional Team. An amazing honor. #gopuxico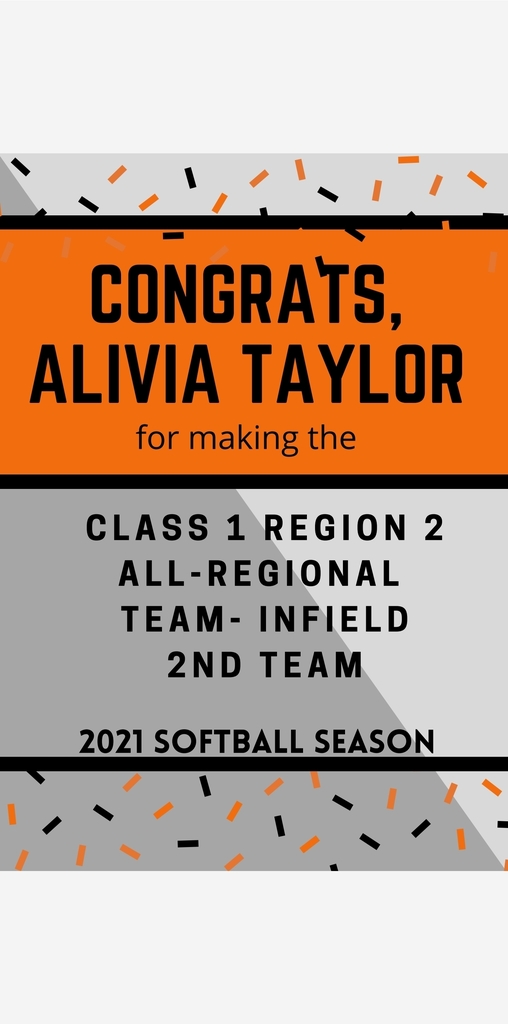 Hall of Fame is right around the corner. #gopuxico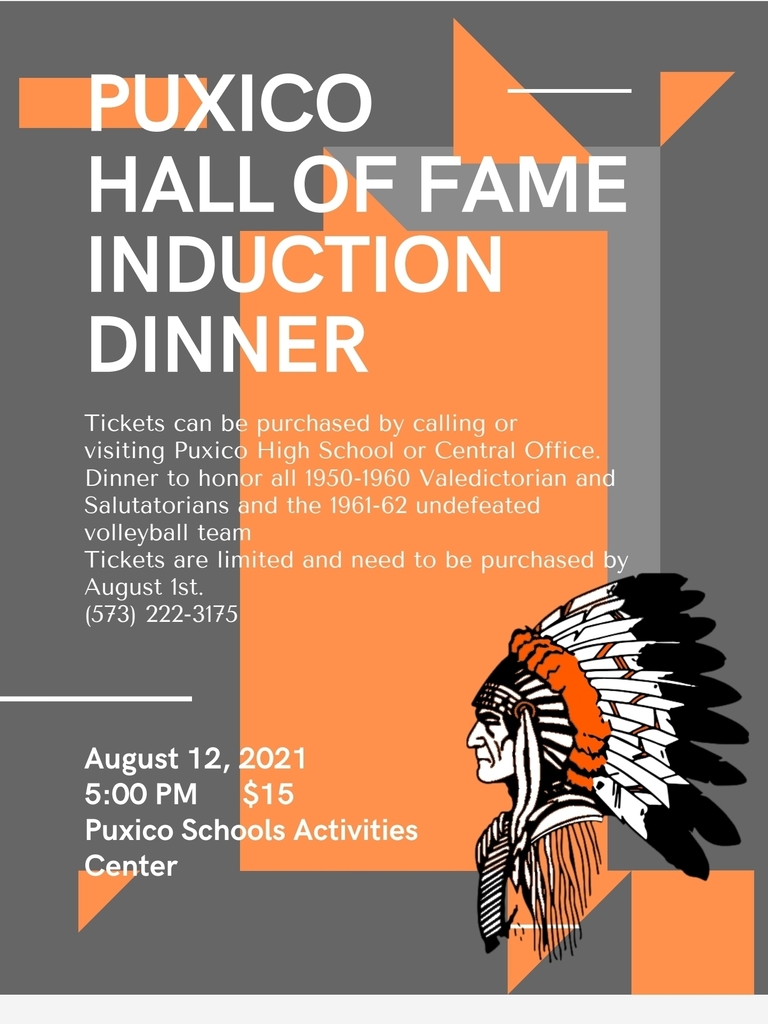 Congratulations to Alivia Taylor on making the SCAA All-Conference Team for the 2021 softball season. Alivia finished the season with a .600 batting average and pitched over 40 innings this season. #gopuxico

Career Opportunity for 2021-2022 school year!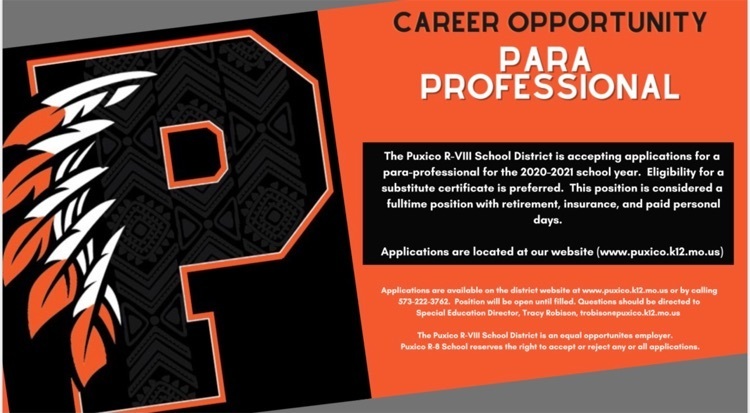 The staff at Puxico R-8 School surprised their administrators with a day of their own! Our students appreciate all that you do to support their learning and provide opportunities to prepare them for the next stages in their lives. We appreciate the service that you have provided to the Puxico R-8 School District, and the many hats you wear each day while being an administrator. Even a pandemic couldn't get you to close the school, and you still found a way to make it as normal as possible for our students! Thank you for being with us every step of the way!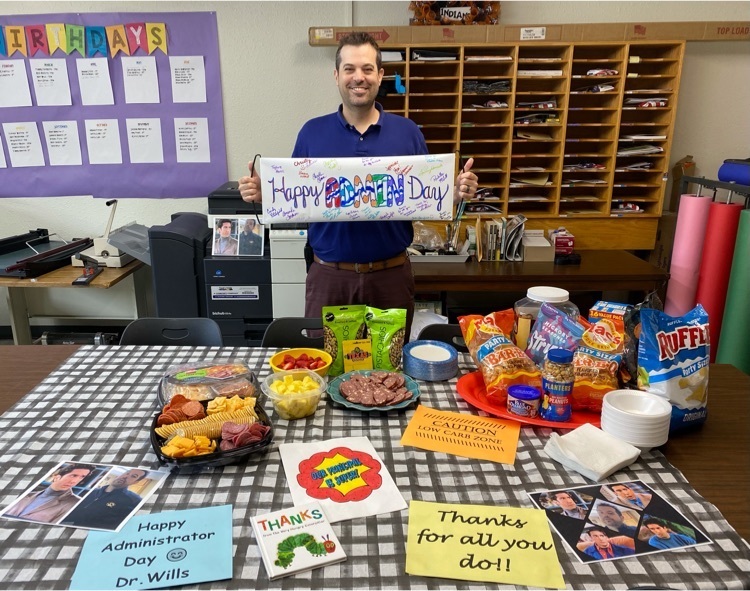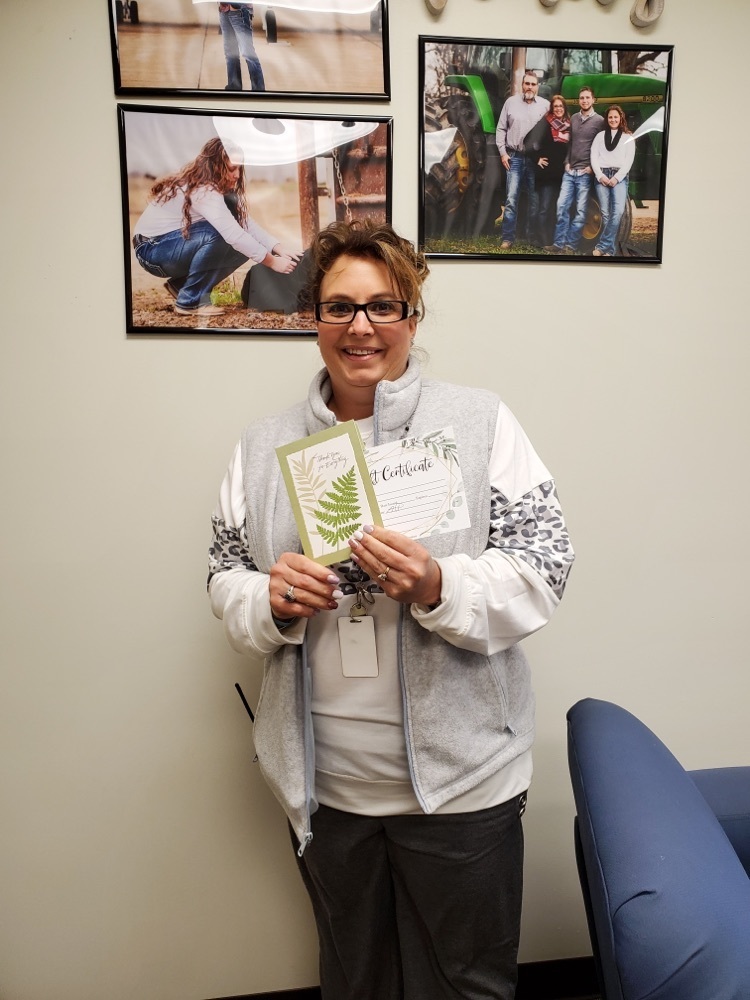 There were several awards presented this evening at the FFA Banquet including numerous Greenhand awards and the Star Greenhand award that went to Lily Stephens. Several officers were recognized for their Proficiency Awards & State Degrees. Mr. Payne recognized honorary FFA members for their outstanding contribution to the organization. Congratulations to everyone this evening! Well done!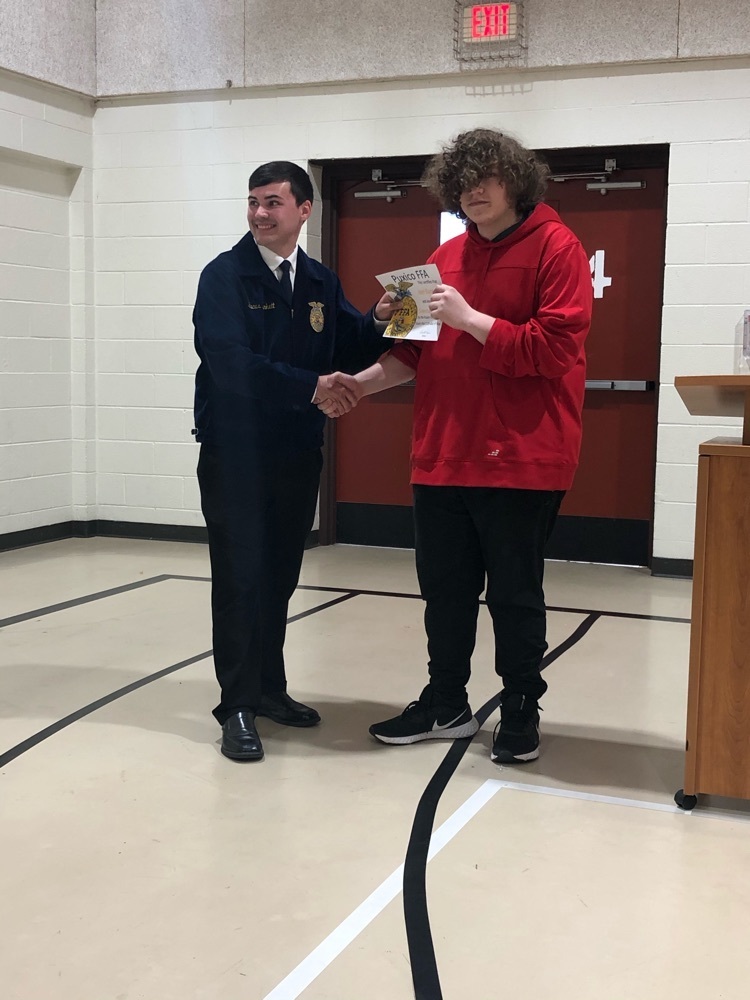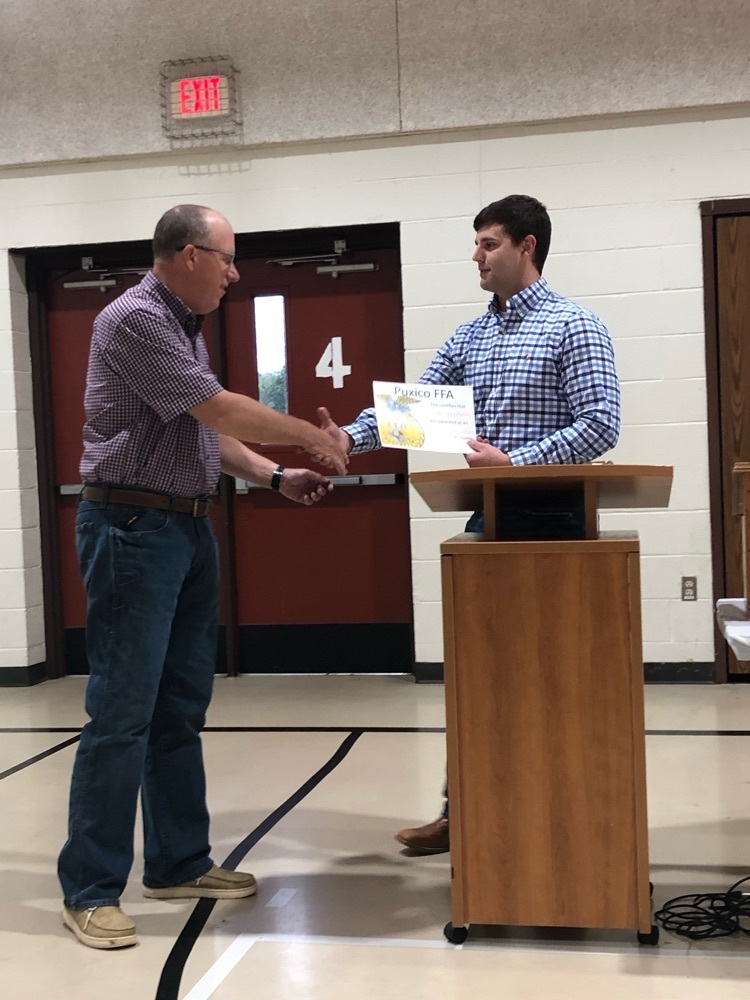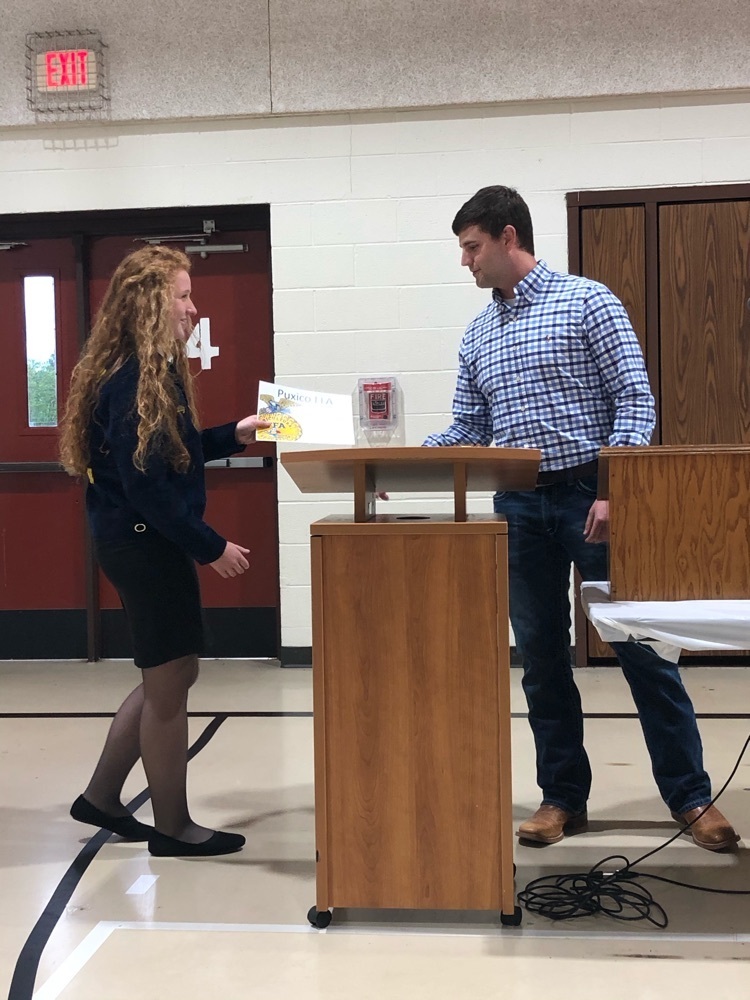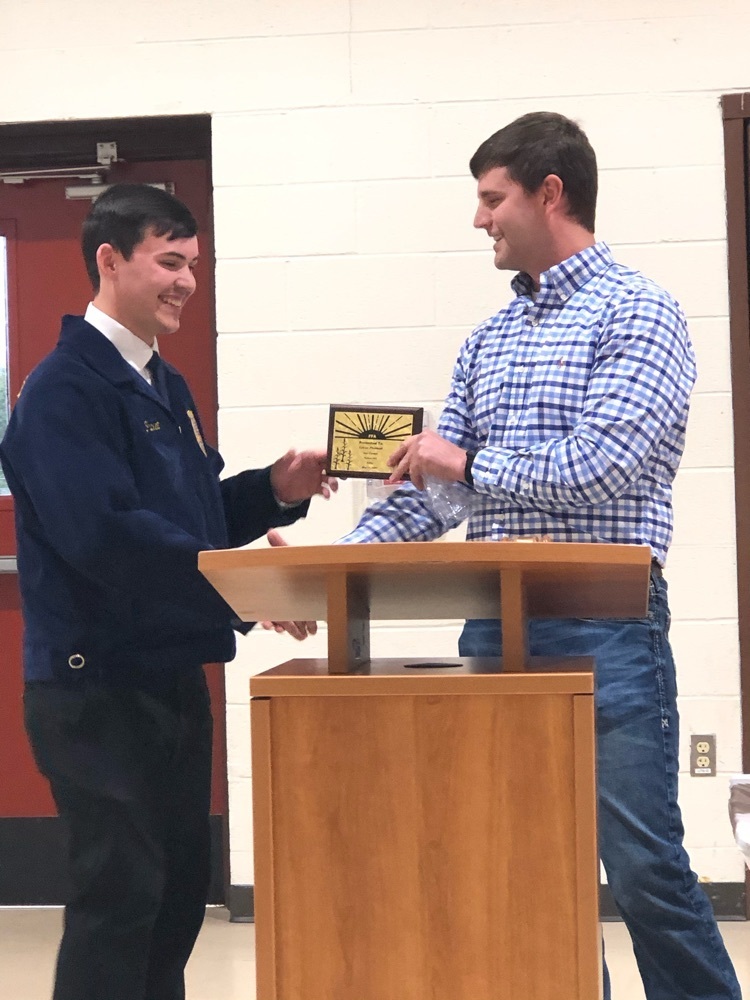 Tonight was the 65th Annual Puxico FFA Banquet. The 20-21 FFA Officers handed over the reigns to the new 21-22 Officers as they took the oath this evening. President: Lucas Plunkett- Lizzie Kight, VP: Carly Sifford-Eric Riddle, Secretary: Maddie McMeans-Thomas Burch, Treasurer: Eric Riddle-Lily Stephens, Reporter: Lizzie Kight-Adysen Shepard, Sentinel: Caleb Robison- Seth Zimmerman Chaplin: Thomas Burch- Chloe Foster, Parliamentarian: Brayden Kaempf The seniors also said farewell to their fellow FFA members as they enjoyed their final banquet as Puxico students. Congratulations to all the new Puxico FFA officers, job well done!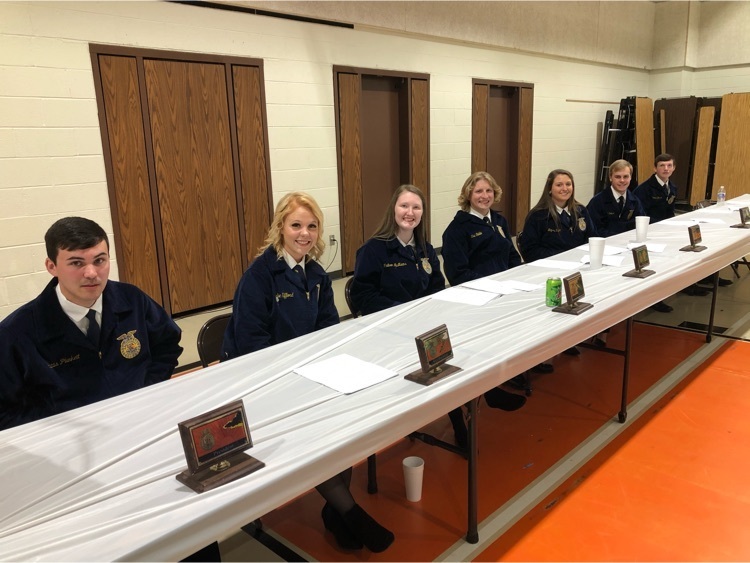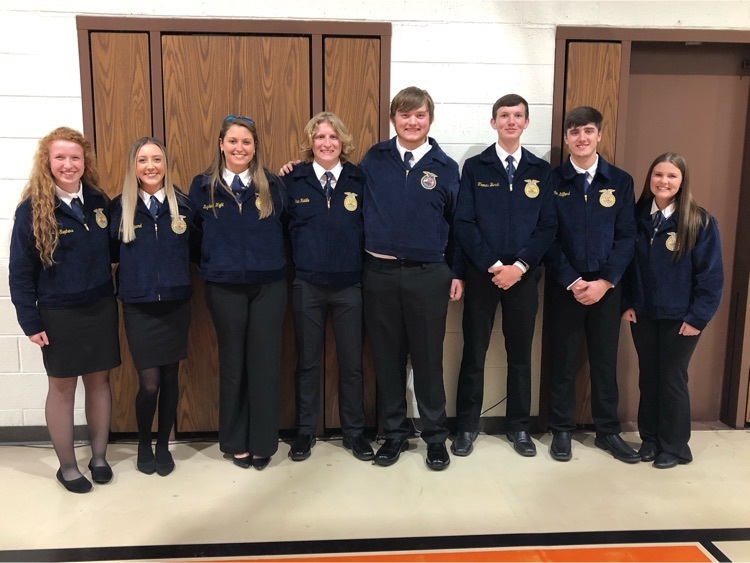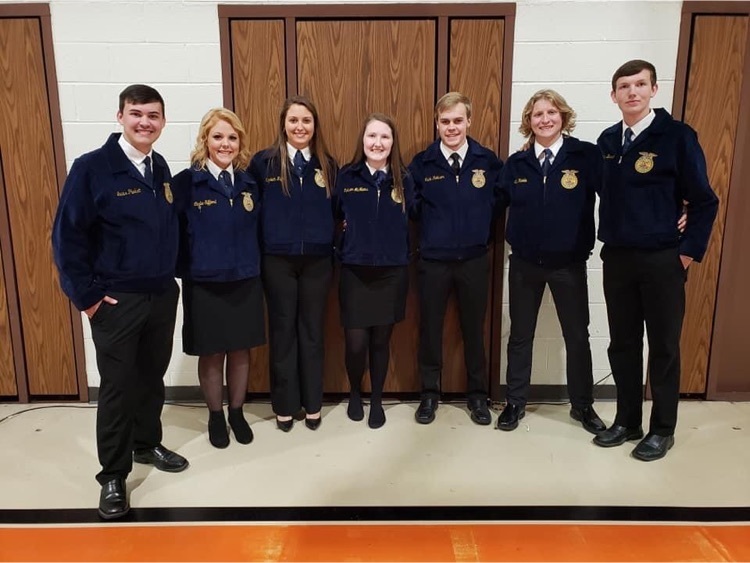 After several rainouts, the Puxico Indians Baseball team was back on the field this afternoon at Bernie.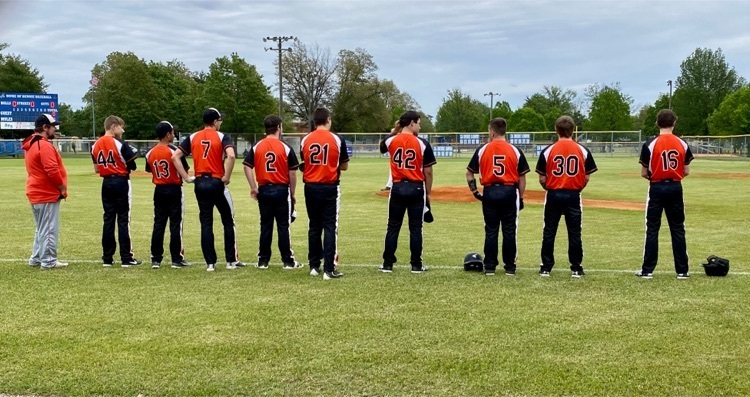 Baseball travels to Bernie this afternoon, May 11th, for a 4:30 SCAA conference game. #gopuxico

The HS baseball game at Delta this afternoon, Monday May 10th, has been cancelled due to field conditions.

Puxico High School is excited to announce that Carlie Sifford has signed with Missouri Valley College and has received a scholarship for their Rodeo Team. Pictured are Heather Sifford, Carlie's mother; Ken Mason, Coach; and our very own Carlie Sifford! Congratulations Carlie, we pray for success for you and your college career!

Our Puxico School Staff feels the love!! A special thank you today to First Baptist Church for biscuits & gravy and to Puxico PTO for workroom donuts! You all are amazing, and we are so very thankful!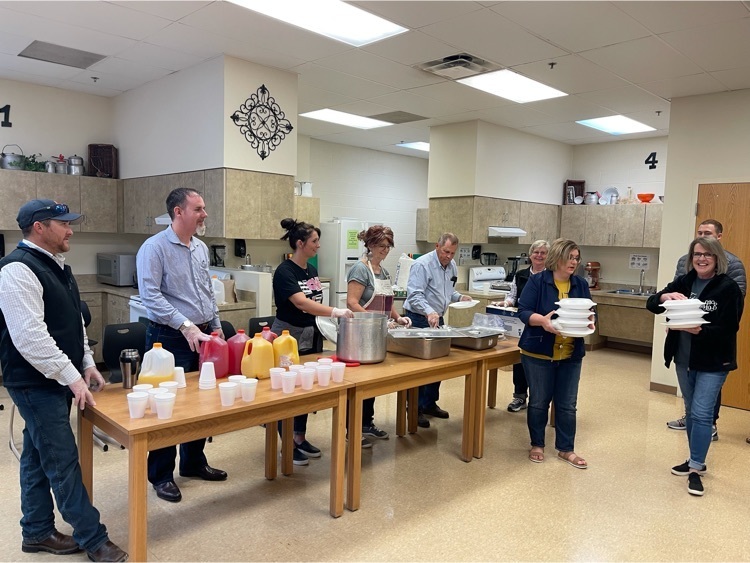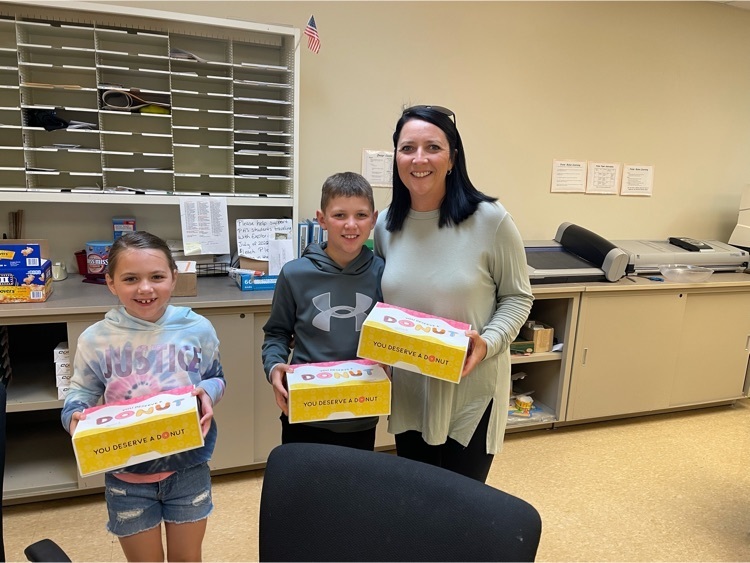 The JH softball game for this afternoon, May 7th, has been cancelled due to district play on Riscos fields.